WELCOME TO THE WAGGON AND HORSES
Managed since 2016 by a small dynamic team dedicated to providing excellent food and drink, together with great service and a traditional pub atmosphere.

We are proud to have become firmly established as the go to bar and kitchen in the Surbiton area.
Pub Quiz - Every Monday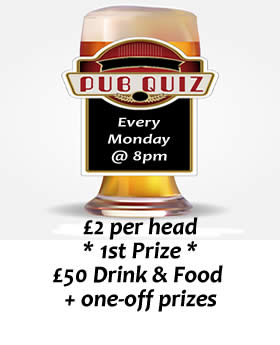 Join our Pub Quiz for a fun night and the chance to win some great prizes.
- Every Monday from 8pm -
- £2 per head -
- First Prize: £50.00 Drink and Food Bar Tab -
- Plus One-off Prizes
FOOD AND DRINK
WE HAVE LOTS OF AREAS TO MAKE YOURSELF COMFORTABLE IN PLUS SEATING IN THE FRONT AND A HUGE BEER GARDEN AT THE REAR
We're all about fresh ingredients, that are freshly prepared to order. Our chef is at the top of his game and both he and his team are justifiably proud to say that where possible everything is hand made on the premises.
When it comes to pizza, everything from the dough to the toppings are expertly created by hand and fired in our brand new state-of-the-art pizza ovens to bring you the perfect combination of taste with an authentic thin crust base.
Our burgers are made from top quality Scotch beef, seasoned to perfection and served with a delicious brioche bun and a range of toppings and garnishes to die for, and our salads and sides are fresh, tasty and great on their own or as an delicious accompaniment to your meal.
In addition to good food, we've got a well thought out wine list and some excellent real ales and craft beers that really complement our food.
See our Food and Drink Menus below
FOOD MENUS
We change our Menus regularly and our chef creates Specials every day.
Checkout the Specials Board and Table menus in the bar.
Mon - Fri 12pm - 3pm and 5pm - 10pm
Sat 12pm - 10pm | Sun 12 pm - 9pm
MAIN MENU
KIDS MENU ALSO AVAILABLE
Please speak to a member of staff.
SHARERS
Waggon Sharer £16.5
Mini burgers, chicken strips, ribs, fries
Baked Camembert (v) £13
Served with rustic bread and mango chutney
Veggie Mezze (v) £13
Falafel, hummus, pitta bread, halloumi, olives & stuffed peppers
Meat & Cheese Mezze £16.5
Mixed selection of cured meats, cheeses, ciabatta bread and olives
Nachos (V) £11
Guacamole, sour cream and spicy salsa
Add Chorizo for £2
PLATES
Choose 3 for £15
Stuffed Jalapeño Peppers (v) £5.5
With sour cream
Mozzarella Sticks (v) £5.5
With sweet chilli dip
Pita and Hummus (VG) £5.5
Homemade pita bread, hummus, lightly dressed with olive oil and paprika
Scotch Egg £5.5
Served with Apple chutney
Panko - Breaded Calamari £6.5
Served with tartar sauce
Chicken Wings £5.5
With smoky BBQ or buffalo hot sauce
Chicken Strips £5.5
With a sweet chilli dip
Mini Ribs £6.5
BBQ glazed
Halloumi Fries £6.5
with harissa dip
Homemade Fish Cake £6
sweet chilli sauce
SALADS
Sirloin Steak Salad £15
With baby gem lettuce, cucumber, carrot, red onion, cherry tomatoes, and chilli vinaigrette dressing
Caesar £8.5
Cos lettuce, cherry tomatoes, croutons, parmesan and Caesar dressing
Add chicken for £3
Chicken, Bacon & Avocado £12.5
With cucumber, cherry tomatoes, croutons and mixed salad in house dressing
Tuna Steak Salad £13
Mixed leaves, new potatoes, boiled egg, peppers, red onion and cherry tomatoes topped with roasted seeds served with French dressing
Falafel (v) £11
Roasted peppers, aubergine, red onion, mixed salad, hummus & cucumber raita
MAINS
Fish and Chips £14
Beer battered cod, hand cut chips, mushy peas, tartar sauce
Mushroom Risotto (v) £11.5
Mushroom risotto in a creamy white wine sauce and parmesan shaving (add pan fried salmon for £4.5)
Sirloin Steak £19
With hand cut chips, onion rings, grilled tomatoes, Portobello mushroom and your choice of Chimichurri or peppercorn sauce
BBQ Ribs £15
With hand cut chips and coleslaw
Pie of the day £14.5
With mash potato, garden peas, savoy cabbage, gravy
Homemade Fish Cakes £13.5
served with French beans, tartare sauce and garnish salad
Crispy Chicken Parma £14.5
Crispy breaded chicken topped with Parma ham and melted cheese, served on the bed of tomato sauce, with chips and mixed leaves salad
HOMEMADE PIZZAS
When it comes to pizza, everything from the dough to the toppings are expertly created by hand and fired in our brand new state-of-the-art pizza ovens to bring you the perfect combination of taste with an authentic thin crust base.
Margarita (v) £8
Tomato sauce, mozzarella
BBQ Chicken Pizza £11
BBQ sauce, mozzarella, chicken, red onion, fresh parsley
Capricciosa £11.5
Tomato sauce, mozzarella, ham, mushroom, olives and peppers
Portobello Spinaci (v) £11
Bechamel sauce, mozzarella, portobello mushroom, fresh spinach, brie caramelised red onion
Fiorentina (v) £10
Tomato sauce, mozzarella, spinach, egg
Pepperoni £11
Tomato sauce, mozzarella, pepperoni
Napolitana £11
Tomato sauce, mozzarella, anchovies, olives, capers
Hawaii £10.5
Tomato sauce, mozzarella, ham, pineapple
Rucola £11.5
Tomato sauce, mozzarella, parma ham parmesan shavings, rucola
Meat Feast £12.5
Tomato sauce, mozzarella, minced beef, chicken, pepperoni, ham
Calzone £12.5
Tomato sauce, mozzarella, pepperoni, chicken, peppers, red onion
Vulcano £11.5
Tomato sauce, mozzarella, chorizo, pepperoni, jalapenos
(VG) Butternut Squash Pizza £11.5
Tomato sauce, vegan cheese, spinach, butternut squash, caramelised onion
BURGERS
Homemade burgers in a grilled Brioche Bun with lettuce, tomato, burger sauce, a side of coleslaw & chips.
DOUBLE UP FOR £3
Classic £10.5
Chicken or Beef patty
(add cheese or bacon for £1 )
All Day Breakfast £13.5
Cheese, bacon, fried egg
Big Blue £13.5
Blue cheese and bacon
Fully Loaded £13.5
Cheese, bacon, onion rings, and BBQ sauce
Hot 'n' Spicy £13
Spicy cheese, jalapeños, rocket, hot sauce
The Somerset £12
Grilled chicken breast, Somerset brie and cranberry sauce
The Lean Burger £13
Grilled chicken breast, avocado and bacon
Falafel Burger (v) £11
With hummus, cucumber raita and sweet chilli
Crispy Chicken Thigh £12.5
Crispy breaded chicken thigh, with pineapple, coleslaw and gherkins on side
(VG) Moving Mountains Burger £12
With vegan cheese, rocket and red onion
SIDES
Hand Cut Chips & Aioli  £4
Skinny Fries & Aioli £3.5
Sweet Potato Fries £4
Onion Rings £3.5
Mixed Salad £4
Garlic bread (v) £3.5 (add cheese for £1)
DESSERTS
Sticky toffee pudding £5.5
Served with Vanilla ice cream
Chocolate Brownie £5.5
Served with Vanilla ice cream
Selection of ice cream (3 scoops) £4.5
Selection of Sorbet (3 scoops) £5.5
Cake of the day £5.5
For coffees please ask a member of the team
KIDS MENU AVAILABLE: Please ask a member of staff
DESSERT: Please see table for our dessert menu
SUNDAY SPECIALS
Please ask a member of staff for more details
STUDENT & NHS DISCOUNTS ON FOOD* - 10% OFF - ALL DAY, EVERY DAY
Excludes sharers
PARTY MENU AVAILABLE
Please ask a member of staff for more information
< FOR ALLERGEN INFORMATION PLEASE ASK A MEMBER OF STAFF >
*Terms and conditions apply (no discounts or offers apply during December, 14th of February,  Mother's Day, etc.)
DRINKS MENUS
Happy Hour on Cocktails 5-8pm Everyday
Bar Drinks
Alongside our well kept Cask Conditioned and Craft beers, we do great selection of premium lagers, Ciders and of course Guinness.
We also stock 25 different gins, and a full range of Scotch Whiskies, Irish and American Whiskey's, Rums, Vodkas and world class spirits.
Classic Cocktails: £8.50
ALL CLASSIC COCKTAILS: £8.50
Mojito
A refreshing Cuban revolution with fresh Mint, Lime Juice and Rum topped with Soda.
Choose your Flavour: Classic, Strawberry, Raspberry, Mango or Passion Fruit.
Margarita
One of the crown jewels in the cocktail world made with Tequila, Cointreau and Lime Juice.
Choose your Flavour: Classic, Strawberry, Raspberry, Mango or Passion Fruit.
Daiquiri
A daiquiri is like a little vacation in a glass with Havana 3, Gomme and Lime Juice.
Long Island Ice Tea
It's the perfect way to kick off any night, made with Bacardi, Bombay Sapphire, Cointreau, Tequila, Vodka, Gomme, Lemon Juice and Coke.
Sour
Choose either a Disaronno Amaretto or Bulleit Whiskey Sour mixed with Lemon Juice, Gomme and a dash of Angostura Bitters.
Espresso Martini
A sumptuous mix of Vodka, Tia Maria, Gomme and an Espresso shot.
Cosmopolitan
The signature cocktail of the 1990's made with Vodka, Cointreau, Lime Juice and Cranberry Juice.
Old Fashioned
The Old Fashioned is just that, a very old, established cocktail made by mixing Bulleit Whiskey and a dash of Angostura Bitters.
Bloody Mary
One of those decades old drinks that seems to be on every cocktail menu. Vodka, Worcester Sauce, Tabasco, Tomato Juice and a Celery stick.
June Bug
Totally Tropical, and slightly green the June Bug is a mix of Malibu, Midori, Pineapple Juice and Lime Juice
Pina Colada
A volcano of flavour bursting with Bacardi, Malibu, Coconut Cream and Pineapple Juice.
Perfect Storm
Get your sea legs with this nautical spiced rum concoction of Captain Morgan's, Lime Juice, Gomme, Ginger Beer and a dash of Angostura Bitters.
Pornstar Martini
The Pornstar Martini is slowly but surely becoming everyone's favourite cocktail. Made by mixing Vodka, Passoa, Vanilla Gomme, Prosecco and Lime Juice.
Lynchburg Lemonade
A Famous Jack Daniels cocktail, made of Tennessee Whiskey, Lemon Juice, Gomme and topped with Lemonade.
Tokyo Ice Tea
A variation on a classic cocktail, this contains Vodka, Rum, Tequila, Midori, Lime Juice and Lemonade.
Bramble
This cocktail has been around since the 1980's Gin, Fresh Black berries, Gomme, Crème de Mure.
Raspberry Flirt
This scrumptious cocktail comes in a Sugar rimmed glass, made with Vodka, Raspberry Puree, Lemon Juice, Gomme and Crème de Mure.
French Martini
The French martini is straight out of New York, Vodka, Crème de Mure, Pineapple Juice and Lime Juice.
Flower Power
A refreshing mix of Gin, Elderflower, Lime Juice topped with Soda Water.
Cocktail Fizzers: £8.50
ALL COCKTAIL FIZZERS: £8.50
Aperol Spritz
A Prosecco Cocktail commonly served as an aperitif in Northeast Italy. The drink is prepared with Prosecco and Aperol Liqueur.
Bellini
This famous cocktail was invented in Venice. The combination of Peach Puree and Prosecco makes it almost acceptable to have at breakfast. Choose your Flavour: Classic, Strawberry, Raspberry, Mango or Passionfruit.
Royale
A swanky French cocktail consisting of Crème de Cassis and Prosecco.
Mimosa
A classic cocktail containing Prosecco and Orange Juice.
Cocktail Sharers: £22.50
ALL COCKTAIL SHARERS: £22.50
Finding Nemo
A whole lot of cocktail, consists of enough Vodka, White Rum, Melon Liqueur, Triple Sec, Cranberry Juice and Lime Juice to share with friends.
Birthday Breeze
Get together with friends and share a party sized cocktail of Vodka, Peach Schnapps, Blue Curacao, Malibu, Pineapple Juice and Lime Juice.
Shooters: £4.50
ALL SHOOTERS: £4.50
Baby Guinness
An Irish dream, Baileys layered on top of Tia Maria.
Black Widow
A dangerous mix of White Sambuca and Jägermeister.
Woo Woo
Colourful and tasty; Vodka, Peach Schnapps and Grenadine.
Slippery Nipple
A classic shot. Sambuca, Baileys and Grenadine.
Jam Doughnut
A little bit special, Baileys on top of Crème de Mure in a sugar rimmed glass.
B52
A layering of Tia Maria, Baileys and Cointreau.
After 8
A shot made with Crème de Menthe and Baileys.
Jägerbomb
An unusual taste which some liken to cough syrup and gives you a boost with the alcohol-caffeine combination of Jägermeister and a Red Bull.
Skittle Bomb
Described to taste like Skittles sweets this bomb is made with Cointreau and Red Bull.
Mocktails: £4.50
ALL MOCKTAILS: £4.50
Virgin Mojito
Mint, Apple, Lime and Elderflower combined to create this refreshing drink with just a dash of Soda Water.
Choose your Flavour: Classic, Strawberry, Raspberry, Mango or Passionfruit.
Waggon Paradise
Elderflower, Lime Juice, Lemonade and a dash Angostura Bitters, mixed to make a refreshing soft drink.
Just Peachy
A delicious blend of Peach Puree, Pineapple Juice and Lemon Juice, shaken and strained over ice.
Apple Spice
A soft drink with a little kick, made with Apple Juice, Elderflower, Lemon Juice and Ginger Beer.
Soft Drinks and Hot Drinks
We have a wide selection of hot and cold soft drinks, including fantastic coffee from Americano to Espresso and everything in between, plus Herbal Teas and our delicious Hot Chocolate.
Our Covered Beer Garden
We have a large heated and covered garden to the rear of the pub and a large uncovered area at the front of the pub
The rear garden is comfortable, spacious and split into sections which can be booked on a per table or per section basis.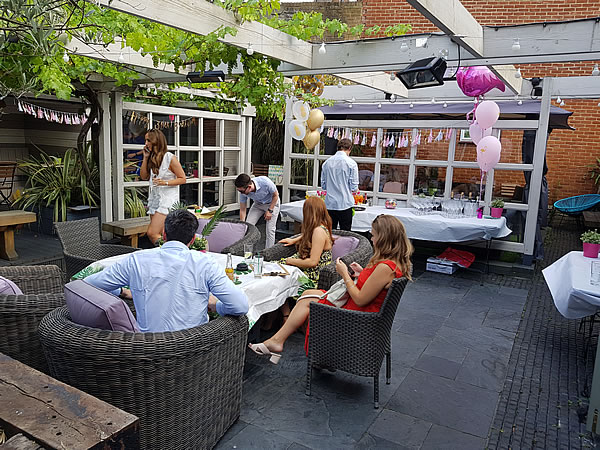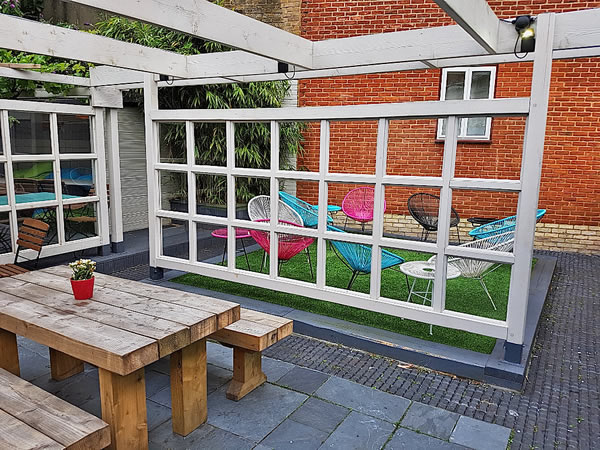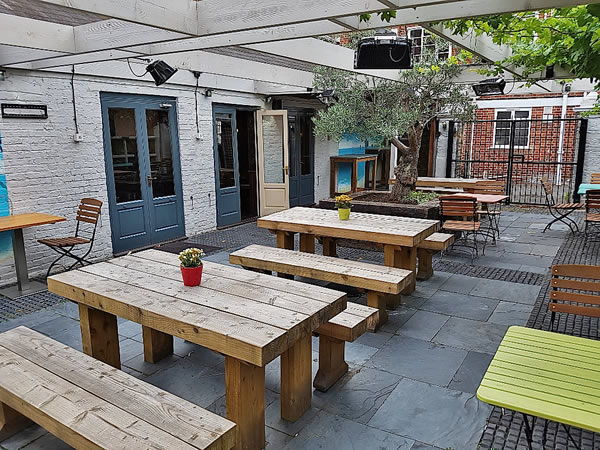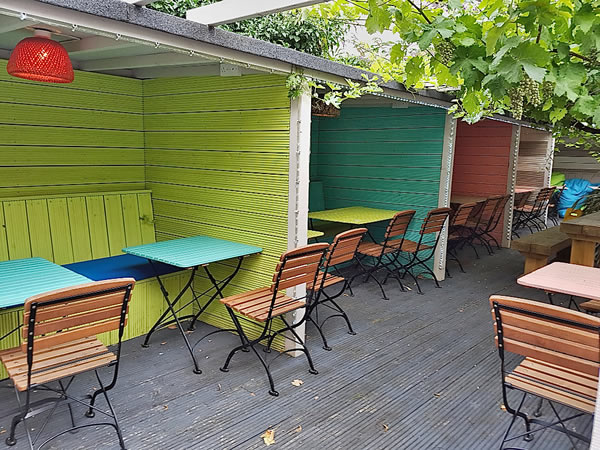 OPENING HOURS
FOOD IS SERVED: Mon to Fri from Midday to 3pm and 5pm to 10pm
Saturday from Midday to 10pm
and Sunday from Midday to 9pm
BOOK A TABLE
Standard booking slot is 3 hours. Should you require to amend your time slot please contact directly after making reservation. For FUNCTION ROOM and PARTIES 15 and over please contact us directly. Please note we require card details for all reservations. The charge will only apply in case all your party be absent or late cancelation. For more information please see T&C.
CONTACT US
We'd love to hear from you
Find Us
WHERE WE ARE
1 Surbiton Hill Rd
Surbiton
KT6 4TW
CALL US
020 8390 0211
EMAIL US
info@thewaggonsurbiton.co.uk